Congratulations to Claire and James Harrison who celebrated their wedding at The Sefton on Saturday 28th April 2018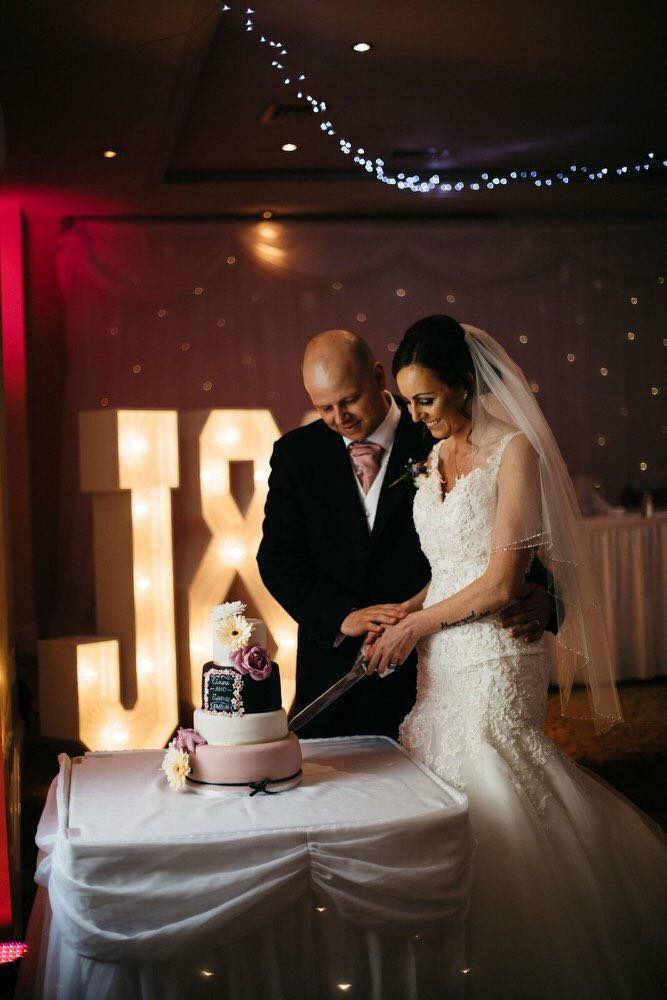 Claire, tell us a little more about your special day:
How did James propose? James proposed to me on Christmas Eve. I had just finished a long shift at work and I arrived home to find James pouring me a well-deserved drink. We were chatting and he began to remind me of the moment, a few months earlier, when we were visiting my grandad in hospital, and James sent me out of the room to go and get him a coffee from the canteen. At the time I remember thinking it was odd, and wondered why he couldn't go and get his own coffee! James then proceeded to tell me that the reason he asked me to leave the room that day was so that he could ask my grandad for my hand in marriage. James said he had a huge smile on his face and happily gave his blessing. Sadly, my grandad passed away the next day; so as you can imagine at this point in the conversation, I was in tears! Since that day, James had been waiting for the right moment to propose, and this seemed like that moment. He then proceeded to pull out the most beautiful engagement ring and asked if I would give him the greatest honour of becoming his wife. In between the tears I just about managed to get my words out – and of course, I said 'yes'!
How long did it take to plan your wedding? We booked the venue, I found my dress and I booked the photographer all within the first few months, but in total the planning process was approximately 14 months.
Why did you choose The Sefton for your Reception? I completely fell in love with the atrium. It is such an idyllic setting and we just knew it had to be there.
Which menu did you opt for? We opted for the carvery and the food was amazing! Every single person who attended our wedding commented on the amazing quality of the food and amount of choices available, from starter to dessert. Everybody loved it!
How did you find the staff at The Sefton? The staff on the day were amazing and were more than happy to assist with anything we needed. They were so attentive, constantly making their way around each guest to ensure everybody was comfortable and had everything they needed.
Overall our experience of The Sefton was amazing and if I had to do it again I wouldn't change a thing.
How many guests did you invite? We invited 65 guests to our Reception and an additional 30-40 guests in the evening.
Was it difficult to find your wedding dress? It wasn't difficult to find 'THE DRESS'. I only tried on four and the one I chose was the fourth one I tried. As soon as I walked out of the dressing room my Mum started crying and I just knew it was the one. It felt special.
Did you have a colour/theme for the day? We opted for a rustic/shabby chic theme, which is how we came to have a tree trunk and watering jug centrepiece and the hessian bunting. Also, I love blush pink and pastel colours so we stuck to these colours for the bows, cake, flowers, table plan and table numbers/name places.
How many bridesmaids and ushers did you have? Five bridesmaids and Six ushers, plus a best man.
Was there a favourite moment in the day for you? I can't pick a favourite part of the day, the entire day was totally magical and perfect from start to finish. I wouldn't change a single thing about any of it.
Would you give any advice to other bride/grooms planning their wedding? The most important thing I would say to any couple planning their special day is to give themselves plenty of planning time and to make sure you enjoy every second. The planning and build-up is super exciting, so take your time, enjoy it and take it all in. Also, try not to get too held up on the smaller details – it's your day and it will be perfect to you no matter what.
Are there any suppliers you used and would like to recommend? I would without any doubt recommend Lucy Randle from Events by Lucy. She worked wonders when dressing the venues and is always available to offer help and support throughout the whole planning process. She was our Master of Ceremonies, too and she was so professional and caring.
I would definitely recommend Liam Gilman for photography; he is amazing! He made everyone feel at ease and the magic he captures with his camera is incredible.
Also Utopia – to any brides, bridesmaids or bridal party looking for amazing hair and make-up, the girls at Utopia are fantastic; I wouldn't go anywhere else for hair and make-up again. They also come to you on the morning of your wedding, which is so much easier. They are so friendly yet very professional and outstanding at what they do. They not only did my hair and make-up but also my five bridesmaids and Mum – and every one of us loved what they did.
Click here to view our Sefton Group Wedding Brochure
To find out more, or to arrange a tour of the hotel's facilities please call 01624 697060.
Alternatively complete our contact form below and we'll be in touch.